Naples. On 30 May 2023, at 6.30 p.m., the JUS Museum in Naples (Palazzo Calabritto, Via Calabritto, 20, piano nobile, scala B) will inaugurate the exhibition 'Agostino Ferrari e il Gruppo del Cenobio' curated by Marcello Palminteri. The curator and Avv. Olindo Preziosi will speak.
On display are about twenty works tracing Agostino Ferrari's creative path, created between the early 1960s and the year 2000. Starting from the experiences he shared with the "Gruppo del Cenobio", founded in 1962 together with Ugo La Pietra, Ettore Sordini, Angelo Verga and Arturo Vermi (some of whose significant works of the period are exhibited), the exhibition allows us to identify the pictorial coherence of one of the leading exponents of twentieth-century sign abstraction.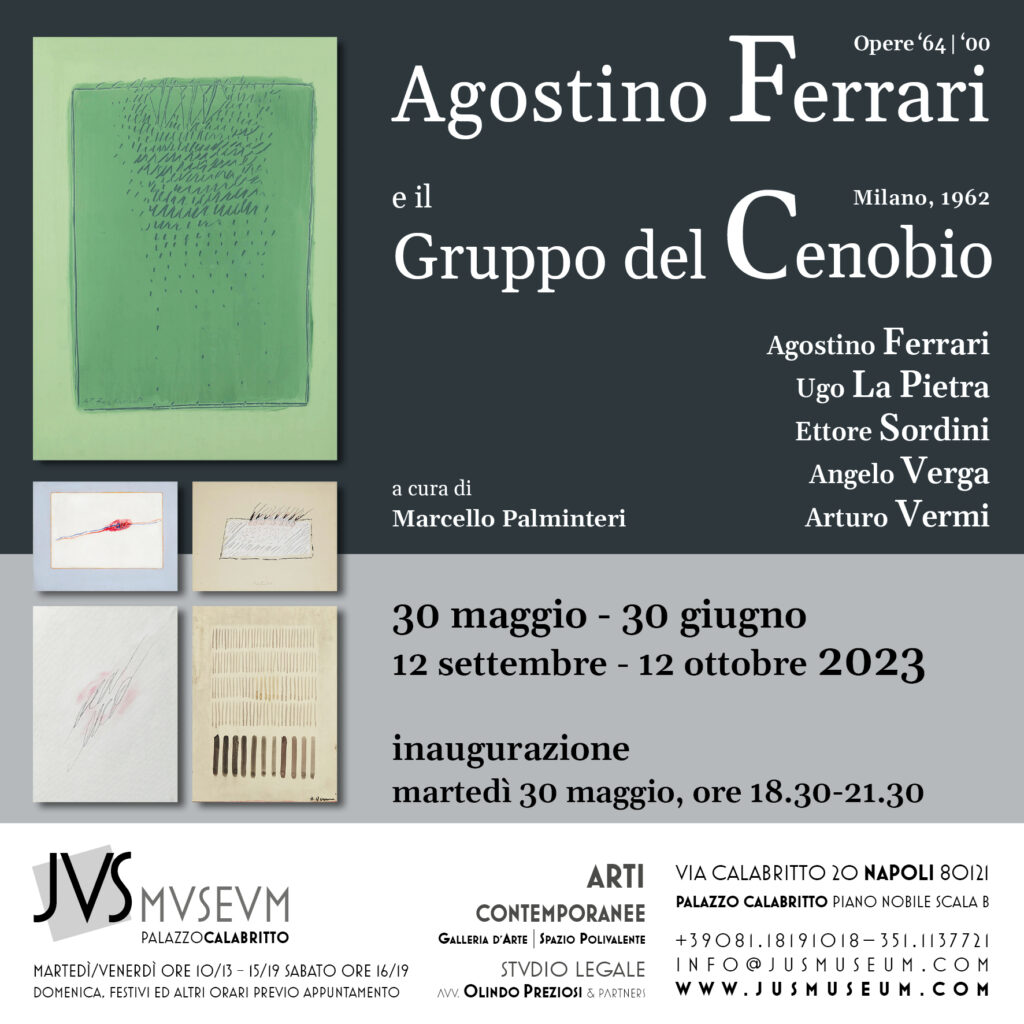 Agostino Ferrari bent the sign into an expressive tool to narrate himself and the developments of painting, crossing avant-gardes and "isms" in the wake of a pictorial vocation that led him towards a reduction in which trace, structure and colour converge in a stylistic figure of rigorous method, yet very free, making evident the extraordinary intensity that transforms every constructive element into a communication tool. Thus sign becomes writing capable of narrating man, indicating the passing of time, becoming history but each time in direct contact, in the conscious physicality of painting, with emotion charged by memory.
The exhibition will remain open until 30 June (Tuesday to Friday from 10 a.m. to 1 p.m. and 3 p.m. to 7 p.m., Saturday from 4 p.m. to 7 p.m., Sunday, holidays and other times by appointment) and will then continue, with new acquisitions, from 12 September to 12 October 2023.
30 May – 30 June
12 September – 12 October 2023
Inauguration
30 May 2023, 6.30 p.m. – 9.30 p.m.
JUS Museum | Palazzo Calabritto
Via Calabritto 20, Palazzo Calabritto, piano nobile, staircase B
80121 NAPLES
info@jusmuseum.com – www.jusmuseum.com – t. 081.18191018 / 351.1137721
Opening hours
Tuesday/Friday: 10 am-1 pm / 3 pm-7 pm – Saturday: 4 pm-7 pm
Sundays, holidays and other times by appointment
Catalogue
A Editions, available from September