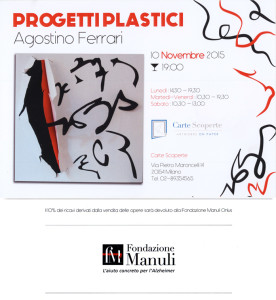 On show at the Carte Scoperte Gallery, Agostino Ferrari's paper models. Preparatory to his works of the series Interno / Esterno, they have, though, a self-sufficient expressive originality, which makes them much more than just maquettes.
As art critic Martina Corgnati writes:
"[...] they are complete works in themselves, but at the same time they "lead up to", assist in the conception – and are therefore at the origin – of another work, usually a painting, but of late also a relief, an enameled metal plate sculpture [...]
They are miniature-sized, just a few square centimetres each; like miniatures, they are clear-cut, highly detailed, faultlessy executed. Therefore they require a sort of "intimate" approach, a closeness, a first-hand contact. They let themselves be fully appreciated only one at a time and just by a single person, a feature that makes them quite different from the artist's other works, but the very first ones [...]"
10% of the proceeds will go to the Manuli Onlus foundation for Alzheimer research
Opening: Tuesday November 10th, 2015 – 7 p.m.
Galleria Carte Scoperte, via Piero Maroncelli 14
Milano