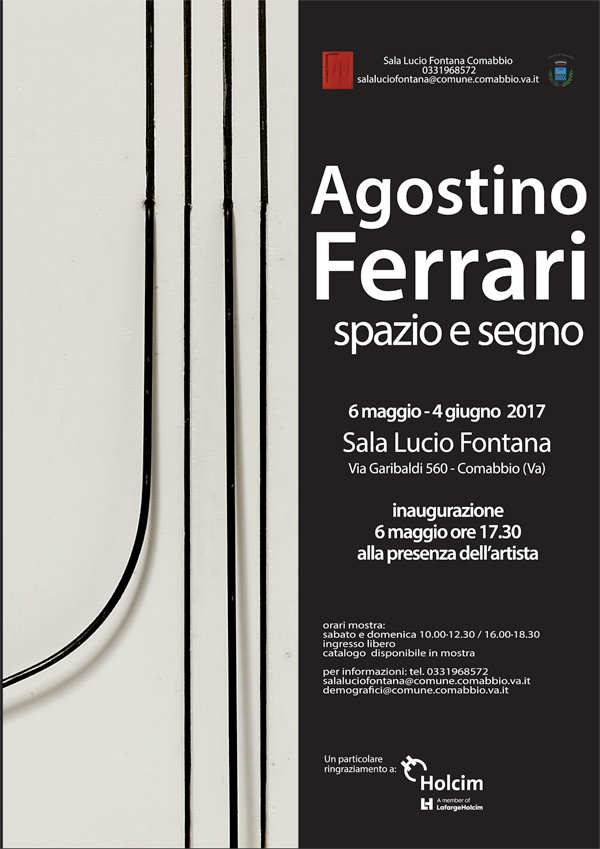 A comprehensive survey of Agostino Ferrari's artistic course by means of twenty-four select works: starting with his 1963 first Racconti through the Teatro del Segno in 1967 (a reference to the Great Master, Lucio Fontana), to the Segno ravvicinato, the Maternità and, more recently, the Interno/Esterno, 4D and ProSegni cycles.
In the exhibition Catalogue, an introduction by Martina Corgnati and Agostino Ferrari's own writings about his work.
A tribute to the artist, this solo exhibition at the Sala Lucio Fontana of Comabbio is a further instance of the coherent cultural policies of the Borough, in the past a favored haunt of famed visitors, first among them, the Great Master, Lucio Fontana.
The exhibition, promoted by the City Council and supervised by Massimo Cattani, also the catalogue editor, will open on May 6th, at 5.30 p.m., in the presence of the Artist.
May 6th – June 4th, 2017
Saturdays and Sundays: 10.00 - 12.30 a.m / 4.00 – 6.00 p.m.
Free entry
Catalogue on site.
Info:
salaluciofontana@comune.comabbio.va.it
demografici@comune.comabbio.va.it
Ph. 0331968572